Safari Download Problems
Downloading files in Safari is an easy and streamlined process. But sometimes problems can occur. Below we will cover several potential issues and how to fix them.
Unable to open an app downloaded from the internet
If you try to run an app downloaded from a third-party website, you can receive the following message.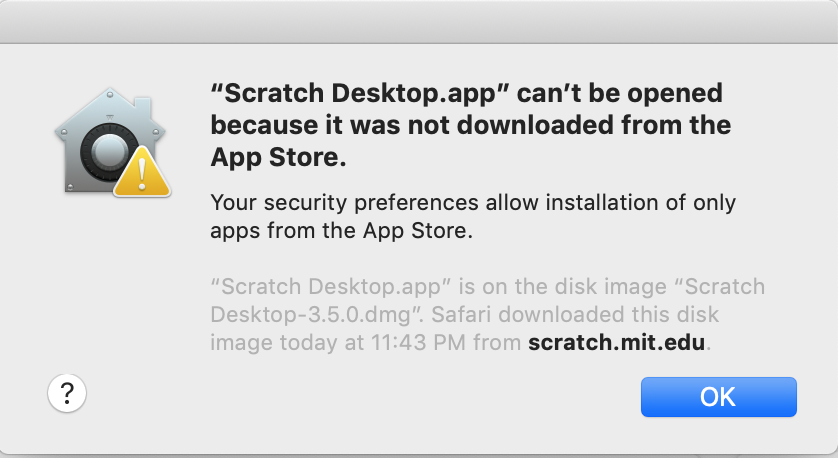 This message means that current Mac OS security settings only allow installing applications downloaded from the Mac OS App Store. There are two ways to fix this issue. To quickly open an app in question you can click a right mouse button on a downloaded app file and select "Open" from the popup menu. This will generate a similar message as above but there will be an "Open" button after the message. Once you click this button your app will be loaded. Alternatively, you can enable automatic install of all apps from identified developers by changing Mac OS security settings. To do it open Mac OS preferences by going to Apple Menu->System Preferences and then clicking "Security & Privacy". After that click the lock icon at the left bottom corner of the window to enable security settings editing. You will need to type your administration password for the computer to proceed.
Disable automatic opening of "safe" files
If Safari web browser considers file safe it will try to open it automatically when download is finished. Even though this feature may be useful, there are some possible safety issues with opening every file right after the download. For certain types of file, it still may be useful to scan them with antivirus software or you may just want to open them with a different application. It is possible to disable automatic opening of "safe" files in Safari. To do it go to Safari main menu and select Preferences. In Preferences go to the General tab and uncheck "Open 'safe' files after downloading" checkbox.
Download files to a different location
If you don't want Safari to put all downloaded files into default location (Downloads folder) here is how you can change it. Go to the Safari Preferences, then navigate to the General tab and change "File download location" setting. You can either specify a new folder where you always want to put your downloads, or you can select "Ask for each download" option and Safari will ask you to select a download folder every time you start a new download.
Learn how to RPMSG file and open ICS file.